Do you stay up late pulling Tarot cards and looking up the card meanings?
Do you read the Tarot for your friends, but only if you have the safety of a book or website nearby?
Have you ever attempted to open your third eye to enhance your intuition?
If the answer is yes, then it's likely we'd be great friends! I have been developing my spiritual toolbox for my entire adult life. I follow brilliant, spiritual teachers, read countless books, participate in spiritual circles, and test-drive new meditation and spiritual practices daily. It's through my commitment to this guidance that I was able to become a spiritual teacher and serve others with my readings and workshops.
It took me 7 years of Tarot practice to get to the point of confidence. At the 7 year point, I happened upon a spiritual teacher that enlightened me. She told me how I was holding myself back. From that day forward, I have been reading professionally and teaching others to do the same. That one key turning point, changed my life. If I had that coaching 7 years earlier, I would have never used the books that were holding me back from my spiritual work.
For the past decade, I have been leading workshops on meditation, spirit guide contact, past lives, and Tarot reading. People always approach me after my workshops and ask me how they can keep learning more with me. I never had a clear answer besides my phone number for personal mentoring, and I have done quite a bit of personal mentoring over the years. But I wanted to be able to teach more of these subjects, especially the Tarot.
I am bubbling with spiritual experiences and practical methods of my work, and my spirit guides have been pushing me to share my work.
My Guides set me on a mission. It was finally time for me to create an offering that would provide consistent connection to my teachings and practices. I brainstormed ways to create a community and connect consistently. With this desire, I chose to create this Tarot Reading Community program. This simple platform, together with my live webinars and private forum, allows us to stay connected on your journey. Even on your most chaotic days, you can log in and instantly access the exact exercises you need to develop your spiritual connection with The Cards and to get the guidance that you need in your life (and for others).
This course helps new Tarot students stay consistent on their path with easy access to my private live webinars, Tarot video lectures, PDF worksheets, and community forum.
Each month, we have a live practice webinar to help you take your skills to the next level.
As a Vibe Tarot Course student, you will receive:
Instant Access to the Entire Library of Video Lectures
As a University instructor, and author on the subject of teaching, my video lectures are fun and engaging. They are practical with a hands on approach to your learning.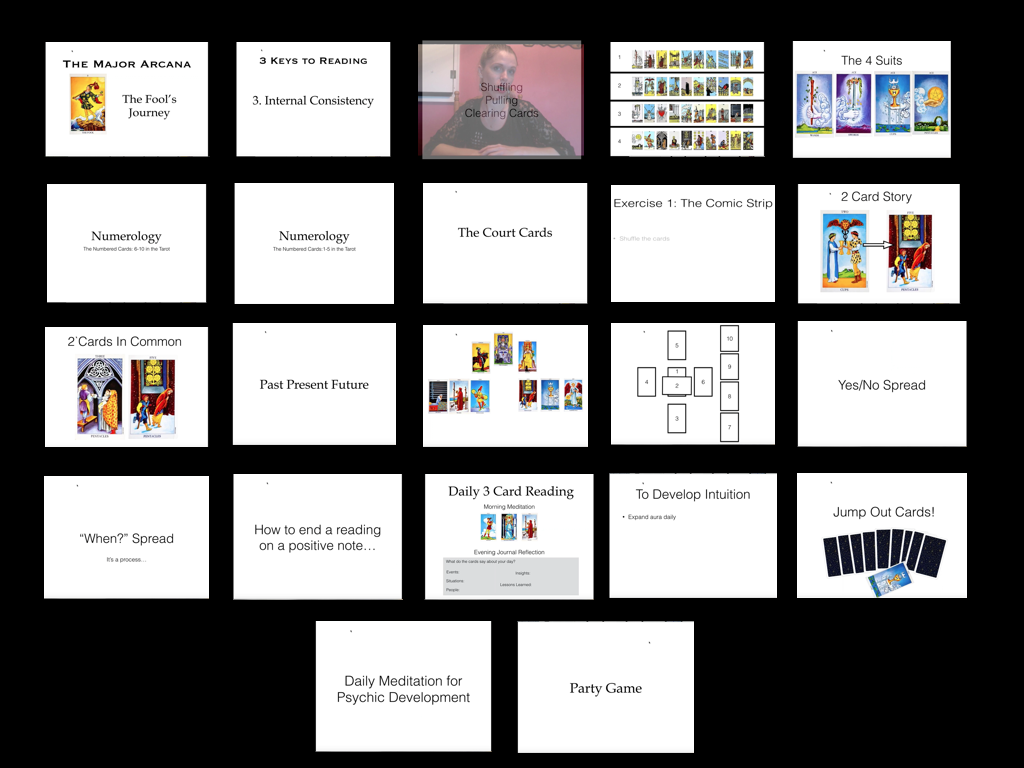 Practice PDF Worksheets & Quizzes
These are easy to follow, results oriented worksheets and quizzes for your practice. They will help you practice after you view the video lectures.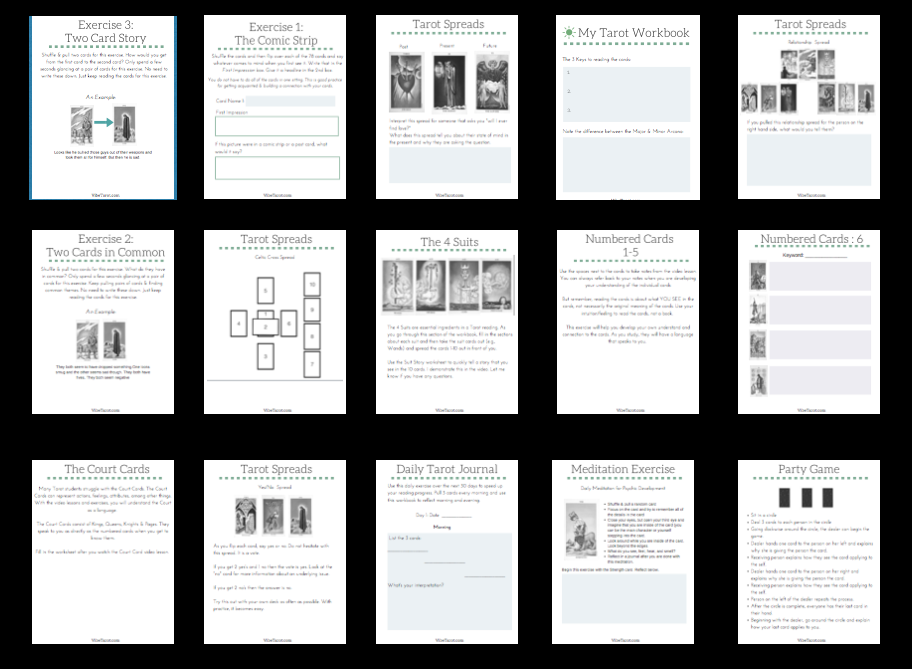 One Year of Live Monthly Practice Sessions
I will also hold monthly live practice sessions with enrolled students. We will share our own experiences and tips, address questions from the community, and provide guided practice sessions with students that show up for the session. Each live session is recorded, so if you can't make it live, it is still available to you!

VIP Private Community Forum
Vibe Tarot students also get access to our private community of Tarot students and on-going readers. The community is one where people support each other, connect, ask questions, get feedback, and offer up their own insights and encouragement in a trusted group setting.
The Vibe Tarot team is always on-hand to assist as you go through the lesson material or have general questions about your readings, and we love to highlight member questions, wins, and feedback requests from the community within our weekly emails and during our live sessions.
---
Student Spotlight

---
What's covered in the course?
The course is separated into 5 main modules of content, each with a number of individual lessons, and one bonus module.
I'll be delivering the content through a series of videos, worksheets, and quizzes. Additionally, there will be one monthly live practice session for your first year of the course.
Module 1: The Foundation to Reading the Cards
In this first module, I will walk you through the story of the Fool's Journey. The Fool's Journey is an essential part of the Tarot that you must understand to use it most effectively. It is the story of life with all of it's gifts and trials & tribulations. I further explain the three big secrets that many new readers do not understand about reading Tarot Cards, and explain my simple shuffling and clearing method.
Module 2: Development Exercises
The 3 development exercises help you connect with the cards quickly and easily. You don't want to become dependent on a book for your answers. Any book will tell you what that particular author believes the Tarot cards mean. These exercises will show you the process of getting your own keywords and meanings while you work.
With these exercises, you will put away your traditional meanings and get truly acquainted with the cards. These exercises will help you strengthen your intuitive muscles, and they will teach you how to build a solid foundation of knowledge before you start handing out advice.
Module 3: Understanding the Minor Arcana
Many new students get confused with all of the numerology, court cards, and symbols of the 56 Minor Arcana cards. This module will teach you to quickly connect with the 10 numbered cards of each suit. The 4 suits are explained in an easy to understand way with a simple exercise demonstrated to get the full picture of each suit story.
Then the lesson takes you beyond your own interpretation of the cards. Most books only give you the author's interpretation. I take you back to tradition and fully explain each of the numbered cards from the perspective of the Tree of Life symbols from Jewish mysticism. This was the Rider-Waite creator's traditional meanings.
The Court Cards are a typical frustration for new students. The Court Card lesson clears up the typical confusion and shows you how to combine the keywords to get clarity.
Module 4: Tarot Spreads
This module takes you through 7 types of Tarot spreads. I use all of these myself in my readings. I explain the pattern spread, past-present-future spreads, relationships spreads, yes-no spreads, "when" spreads, the celtic-cross spread, and clarification spreads.
Additionally, this module tells you how to end your reading on a positive note. Because we know it's no fun giving people news they don't want to hear.
Module 5: Developing Intuitive Reading Skills
This module provides 3 lessons for developing your psychic reading skills. I provide two daily Tarot exercises and a lesson about my personal experiences and methods of raising my etheric vibration with aura expansion rituals.
Module 6: Bonus & Thank You
In this final module, I explain a simple, but fun Tarot party game that I do at Full Moon gatherings at my home. The party game is something that my spiritual friends and students look forward to every month.
---
Student Spotlight

---
This Tarot Masterclass is right for you if:
You are ready to start reading the cards, but need some help understanding the Rider-Waite or tapping into your own intuition.
You already read the cards, but tend to look up meanings in the books still.
You are highly intuitive or psychic and want to learn the cards because others request it from you.
You read the cards, but you don't feel solid in understanding the Rider-Waite deck.
You have never picked up the cards, but you really want to begin reading the cards to get insight into your own life.
You want to understand what is going on in your life in a deeper way and get guidance for your future choices.
You want to learn to predict the future and future possibilities (divination).
This Tarot Masterclass is Not For You If:
You are not committed to practicing on a regular basis. Development and growth with any new skill can only come from practice.
Don't let your spiritual practice be another item on your to-do list! Get the Vibe Tarot Masterclass and make it fun and easy.
Your Instructor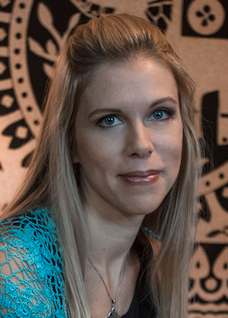 Tarot Reader | Astrologer | Hypnotist | Regressionist
Course Curriculum
Welcome to the Vibe Tarot Masterclass
Available in days
days after you enroll
The Foundation to Reading Tarot Cards
Available in days
days after you enroll
Development Exercises
Available in days
days after you enroll
Frequently Asked Questions
When does the course start and finish?
The course starts now and never ends! It is a completely self-paced online course - you decide when you start and when you finish.
How long do I have access to the course?
How does lifetime access sound? After enrolling, you have unlimited access to this course for as long as you like - across any and all devices you own.
What if I am unhappy with the course?
We would never want you to be unhappy! If you are unsatisfied with your purchase, contact us in the first 30 days and we will give you a full refund.